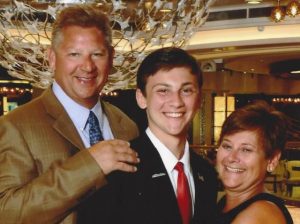 Managing Broker Robyn Rosenberg Bowman enjoys helping people whether it is selling their current home, finding a new location to call home or just have a question that you are looking for a answer. Robyn assist landlords in locating new tenants or managing their properties. She does as much research as she can to find all options for her clients.
Robyn and Mark married in 1999, and they have one son, Tanner who is the light of their lives. Northern Brown County is where they call home. They work as a team.
Robyn is a graduate of Western Michigan University with a major in Textiles and Apparel Technology and a minor in Communications and Business.  She also is a graduate of the Leadership Brown County.
Currently Robyn is appointed to the Brown County Property Tax Assessment Board of Appeals know as PTABOA, President of the Brown County Maple Leaf Building Corporation,  GOP Vice-Precinct Committeemen for Jackson 2 , and Secretary of Brown County Division of MIBOR.
Broker Mark Bowman does it all from showing a buyer properties to crawling underneath to make sure that all will pass inspection.
Currently, Mark is a board member of IREX, Indiana Real Estate Exchangors,  former President for 2 terms,  and the Treasurer for 5 years. He is the GOP Chairman for Brown County, GOP Precinct Committeemen for Hamblen 2 in Brown County, President of Brown County Division of MIBOR and volunteers to assist the Trafalgar Town Council with various projects.
Mark is a graduate of University of Indianapolis. He has two majors; Political Science and Business and a graduate of Leadership Brown County.
Mark and Tanner are the landscapers at the new office with all those beautiful flowers and paver patio.
Tanner attends Brown County High School where he is the Sales Manager for Eagle Manufacturing, a member of the National Honor Society and a member of the History Club. Tanner has been appointed to the Indiana Legislative Youth Advisory Council serving his second term, a member of Brown County 4-H and is taking flying lessons to become a pilot. He received his Eagle Scout in 2017 and in his spare time Tanner has many part time jobs from tutoring basic uses in cellular phones and computers, marketing using social media for a law firm to landscaping/lawncare, building a hot rod and dog sitting.
Real Estate Agent is Crucial – 5 Reasons Why
While it can be tempting to save a few bucks by going it alone, selling a home on your own can be tricky. Hiring a professional real estate agent is critical to getting your home sold quickly and for the best possible price. Here's why:
1. Market know-how: Having a real estate agent that knows the ins-and-outs of a market is critical. A seasoned agent will help you price your home appropriately—perhaps the number-one most important thing you can do when selling your home.
2. MLS access: An agent has access to the Multiple Listing Service (MLS)—a database of current homes for sale, which can be very helpful. This access works both ways. An agent or broker can list your home on the MLS, and your property info will be instantly available to agents all across your area. Additionally, your agent can search the MLS for potential buyers.
3. Details, details, details: Your agent is going to be a big help in getting your home ready for sale, from the big things like major home improvements, down to the details, like pointing out housing-code or zoning violations. Plus, an agent can help you fill out the paperwork you will need before you offer your home.
4. Less stress. Your agent can take on stressful or awkward tasks, like negotiating with buyers and their agents. This is extremely helpful if your buyer is demanding. You can count on your agent to ensure your sale goes smoothly. Plus, often buyers are not comfortable viewing your home when you are in it, because they feel pressure and/or awkward about bringing up things they don't like. An agent is the perfect go-between.
5. Word of mouth. Your agent has tons of connections, and can provide referrals to contractors, home inspectors and lawyers.